Cuffy


Flamenco Guitarist
* Born in Glasgow *
*Living in Bristol *
*Heart in Spain *
Although hailing from Scotland Cuffy's musical Soul belongs in Andalucía.
An early love of music led him to the Guitar & a brief affair with heavy rock but it was the discovery of FLAMENCO GUITAR that captured his imagination & it became his TRUE LOVE. His passion for Flamenco has often taken him to Spanish shores to study, this, combined with Playing with other Musicians, Dancers & Singers and Constant Practice has resulted in Cuffy becoming a very talented & versatile player with a deep understanding of all Flamenco styles.

Cuffy plays solo, but more often collaborates with a varied line up of Musicians, Dancers & Singers from the UK & Spain.
He is half of the well known  Bristol Duo Flamenco Loco  along with percussionist & singer Jaime Cantera .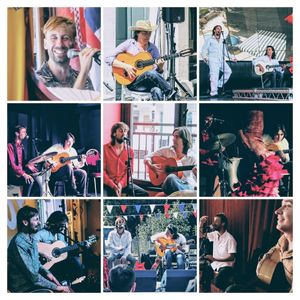 He has had a long association with the cult Bristol based 'UP BUSTLE AND OUT' 
featuring on numerous albums & has joined them for UK & European live gigs.
Cuffy has also travelled worldwide with Lovely Ladino singer 'YASMIN LEVY' on her Sentir Tour 
*Check Out Cuffy's Events Page *
.
You are visitor number: 10155